5G could fundamentally enable the applications to improve quality of life via unprecedented use cases that require high data-rate instantaneous communications, low latency, and massive connectivity. More and more SMEs are innovating their network applications to provide services based on the 5G ecosystem from the network operators. Most SMEs are innovative in software design and development but lack the means to fully test, validate and certify their products across diverse 5G environments. Furthermore, network operators will be challenged to independently assess and validate the various applications individually.
5GASP aims to unlock such a dilemma by creating an automated 5GASP certification (5GASP-C) for Network Applications (NetApp). 5GASP-C enables the reproducible and effective tests to reduce the individual validation effort by NetApp developers and operators.
The 5GASP certification is the technical, organizational, and administrative process executed to certify a NetApp. The following parties are typically involved in the 5GASP-C process.
NetApp Applicant
NetApp Applicant is an equipment manufacturer providing a NetApp supporting the 5GASP requirements, which would like to certificate his NetApp in 5GASP-C platform. There are some activities as follows for the applicant to initial a certification request, coordinate for the testing, and achieve a certificate.
Select an authorised Testbed which meets the Applicant's needs and schedule a certification testing slot
Complete NetApp certification application and submit all required supporting documentation
Submit required materials to the Testbed for certification testing
Coordinate with Testbed on monitoring/supporting the certification test execution
Coordinate with Testbed on investigation/debugging of NetApp test issues as required
NetApp Applicant will have the opportunity to showcase his product along with certifications on the supported software platforms (interoperability) and functionality (as assessed by a 3rd party 5GASP-C).
Authorized Testbed
Authorized Testbed is an independent Testbed that has 5GASP approval to provide test reports for NetApp certification. There are some activities as follows for the testbed to prepare, schedule, coordinate, execute the testing with NetApp Applicant, and report, escalate the result to Certification Authority.
Respond promptly to testing inquiries from Applicants
Coordinate with Applicant to schedule timely testing window
Coordinate with Applicant to complete all pre-testing logistics
Execute formal certification testing
Review testing results for test environment integrity and accuracy
Escalate abnormal test findings to 5GASP certification authority for disposition
Facilitate investigation/debugging of product test issues with Applicant as requested
Communicate completed test results to the 5GASP certification repository
Certification Authority
Certification Authority is the 5GASP Logo owner and Program Administration of 5GASP Certification. There are some activities as follows for the authority to not only review, approve, arbitrate the testing with NetApp Applicant and Authorized Testbed, but also issue the 5GASP certificate online in a public marketplace portal.
Review/approve product certification application and supporting documentation
Collaborate with Testbeds on investigation/disposition of abnormal test findings
Review testing results for product compliance
Arbitrate any escalated issues from Testbed and Applicant
Issue certificate and associated logo
Maintain certified product listing
5GASP deployed a showcase portal for the registered network applications, 5GASP NetAppStore on the public cloud network. It provides certification information collected automatically during the NetApps independent testing on the 5GASP-C platform. The below workflow shows the details of 5GASP-C process.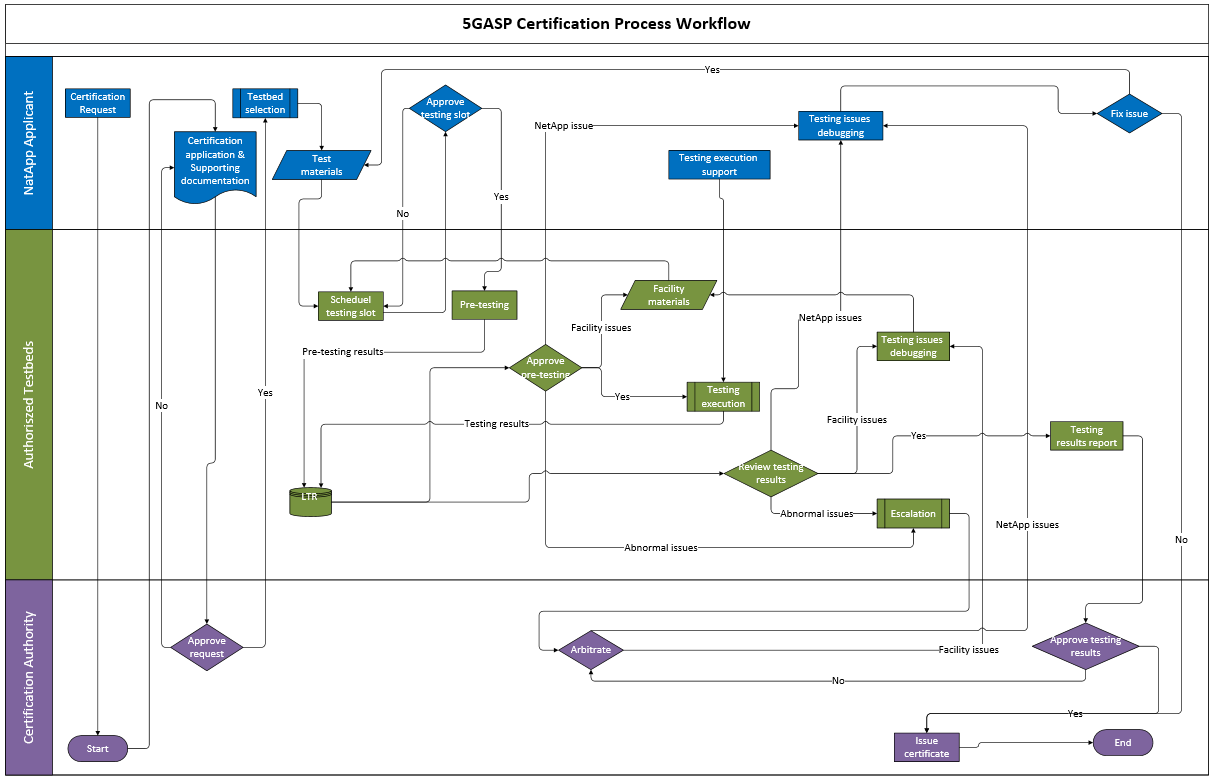 5GASP-C platform is open for 3rd party NetApp to certify the functionality, performance, security, and connectivity of the application on one or multiple of the authorized Testbeds located on Aveiro (Portugal), Patras (Greece), Bristol (UK), Ljubljana (Slovenia), Bucharest (Romania) and Murcia (Spain).